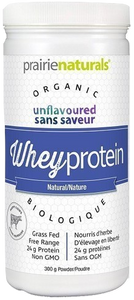 Every Body Needs Protein Every Day!
Highlights:
Made with fresh, certified organic milk

Low fat, low carbohydrate & low lactose

Free of antibiotics, hormones & GMOs

No sugar, artificial flavours, colours

Micro ultra-filtered & concentrated

Protein improves immune function

Builds muscle and bone

Promotes skin health

Low heat process

Certified Organic, Glutin Free,
Organically, Deliciously, Conveniently.
Prairie Naturals Certified Organic WheyProtein satisfies your need for protein. Naturally derived from North American organic fresh milk, Prairie Naturals Organic WheyProtein is free of antibiotics, synthetic hormones and GMOs (genetically modified organisms). With no added sugar, artificial flavours or colours, Prairie Naturals Organic WheyProtein is a delicious low fat, low carbohydrate and low lactose source of organic protein. It is micro ultra-filtered and concentrated without the use of high heat or acid treatments.
From the very young to the very old and all ages in between, protein is a foundation macronutrient that can benefit the health and well-being of every family member by: resisting infections and enhancing immunity; producing hormones and keeping our skin youthful; building muscle and bone; promoting healing and repair of connective tissue. Contains NO soy, eggs, flavours, colours, preservatives, sweeteners, GMO ingredients, fillers. Tested gluten-free!
Product Quantity: 300 grams
Adults: For best results mix 2 scoops (approximately 30 g) of Whey Protein powder with 200-250 mL water or juice or your prefered beverage (in a blender or shaker cup). Or add 1/4 cup of fresh or frozen fruit, mix on high speed for 30 seconds and enjoy a creamy, delicious shake. Add to cold or cooked cereals.
Cautions & Warnings:
Keep refrigerated after opening. Due to naturally occurring variances in nature, the colour and texture of our organic whey may differ slightly. Happy Cows; Free Range, Grass Fed. For best results mix in a blender or shaker cup.
Shipping Information
Shipping only in Hong Kong.
We offer free deliveries to most areas of Hong Kong for orders over $400 (a token amount will be levied for orders under $400). More Shipping Info.
** In the unlikely event of stock shortage, delivery will be delayed by one week as fresh products will be flown in from the country where products are manufacturer. This is to ensure up-to-date products are delivered to our clients. You will be notified promptly upon receipt of your order.