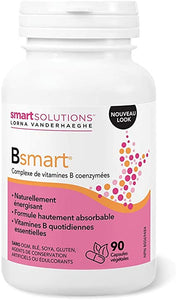 Vitamin B Complex
Highlights:
Active B-vitamins in a form that your body can use
Higher amounts of the Bs you need most
Support for energy and metabolism
Naturally energizing
Highly absorbable formula
Comprehensive mix of essential daily B vitamins
Bsmart contains B vitamins in their active form which makes them readily available for your body to use. B vitamins work together to support energy, tissue formation, liver function, and form blood cells.
B vitamins are water soluble vitamins which means they are not stored in the body and need to be replaced daily. Common stressors can deplete B vitamins more quickly. Certain diets, such as vegan and vegetarian, and nutritional stress, such as high sugar and alcohol intake, may lead to B vitamin deficiencies. The B complex family of vitamins consists of thiamine, riboflavin, niacin, pantothenic acid, pyridoxine, cobalamin, folate, biotin, choline, and inositol.
Why Take Bsmart?
Bsmart is for anyone looking for a vitamin B complex formulation. Bsmart provides the most active coenzyme form of the B vitamins in the correct balanced dosage to ensure optimal absorption.
Each Capsule Contains:
| | |
| --- | --- |
| Vitamin B1 (Benfotiamine) | 33 mg |
| Vitamin B2 (Riboflavin 5'-phosphate sodium | 2.5 mg |
| Niacin (Inositol hexanicotinate) | 118 mg |
| Pantothenic acid (Calcium D-pantothenate) | 100 mg |
| Vitamin B6 (Pyridoxal 5'-phosphate) | 33 mg |
| Vitamin B12 (Methylcobalamin) | 333 mcg |
| Folate [(6S)-5-Methyltetrahydrofolic acid, Glucosamine salt, Folic acid] | 333 mcg |
| Biotin | 166 mcg |
| Choline (Choline bitartrate) | 80 mg |
| Inositol (Inositol, Inositol hexanicotinate) | 131 mg |
Non-Medicinal Ingredients: Capsule (vegetable cellulose), microcrystalline cellulose, magnesium stearate.
NO GMOs, WHEAT, SOY, GLUTEN, ARTIFICIAL PRESERVATIVES OR SWEETENERS.
Key Ingredients
Vitamin B5 works together with other B vitamins to create energy from food.
Vitamin B6 is essential to protein synthesis, supporting production of red blood cells and muscle cells.
Vitamin B9 (Folate) regulates healthy cell division and works together with iron and B12 in hemoglobin production. It is also critical for methylation and other aspects of hormone metabolism within the liver.
Vitamin B12 is critical for methylation processes and important for almost every chemical reaction the body uses to grow, maintain and detoxify itself. A healthy nervous system is dependent upon B12.
Biotin is a nutrient that regulates gene expression and fetal development.
Choline and Inositol are important to the metabolism of fats.
Suggested Use
Adults take 1 capsule 3 times daily with food, or as directed by a health care practitioner.
Product Quantity:  90 capsules
Expiry Date:  May 2024
Shipping Information
Shipping only in Hong Kong.
We offer free deliveries to most areas of Hong Kong for orders over $400 (a token amount will be levied for orders under $400). More Shipping Info.
** In the unlikely event of stock shortage, delivery will be delayed by one week as fresh products will be flown in from the country where products are manufacturer. This is to ensure up-to-date products are delivered to our clients. You will be notified promptly upon receipt of your order.