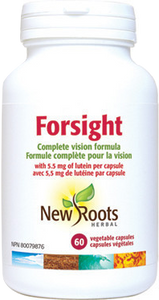 Highlights:
The all-natural way to safeguard from vision loss
Contains nutrients that protect from diseases such as macular degeneration and cataracts
Results you can definitely see
New Root Herbal's Forsight is designed as the most complete therapeutic vision formula available in a single capsule. Supplementing with the 20 nutrients in Forsight can help lower the risk of developing macular degeneration, cataracts, diabetic retinopathy, and other forms of degenerative eye diseases. Provides antioxidants for the maintenance of eye health.
Forsight's high quality nutrient complexes are specifically designed to sustain important eye functions. Our formula provides natural pigments used by your eyes to shield themselves from the harmful rays of the sun and retain optimal retinal health.  It helps to maintain and support eyesight and eye health in conditions (associated with sunlight damage) such as cataracts and age-related macular degeneration.
Helps to reduce the risk of developing cataracts and improve macular pigment optical density.
Each vegetable capsule contains:
Vitamin C (ascorbic acid)
170 mg
Bilberry (Vaccinium myrtillus) European fruit extract, 25% anthocyanosides
80 mg
Vitamin B3 (niacinamide)
75 mg
Grape (Vitis vinifera) seed extract, 95% proanthocyanidins
50 mg
ᴅʟ‑alpha-Lipoic acid
50 mg
Fruit blend, 20% multianthocyanidins*
25 mg
* Provided by bilberry fruit and extract, grape seed extract, and grape skin extract
ʟ‑Glutathione (L‑glutathione reduced)
25 mg
Inositol hexanicotinate, flush-free (vitamin B3)
25 mg
Vitamin B2 (riboflavin)
25 mg
Vitamin E (ᴅ‑alpha-tocopheryl acetate)
20.1 mg AT (30 IU)
Astaxanthin 1.5%, from Haematococcus pluvialis extract
13.33 mg
Zeaxanthin 20%, from marigold (Tagetes erecta) extract
10 mg
Lycopene 5%, from tomato (Solanum lycopersicum) flesh extract
10 mg
Lutein (from marigold [Tagetes erecta])
5.5 mg
Vitamin B1 (thiamine hydrochloride)
5 mg
Vitamin B2 (riboflavin-5′-phosphate sodium)
5 mg
Vitamin B6 (pyridoxine hydrochloride)
5 mg
Zinc (from zinc citrate)
5 mg
Vitamin B6 (pyridoxal-5′-phosphate)
2 mg
Copper (from copper gluconate)
500 mcg
Selenium (from yeast-free ʟ‑selenomethionine)
50 mcg
Other ingredients: Vegetable magnesium stearate and silicon dioxide in a non‑GMO vegetable capsule composed of vegetable carbohydrate gum and purified water.
Product Quantity: 60 capsules
Adults:  Take 2 capsules daily with a meal containing oil/fat or as directed by your health-care practitioner. 
Shipping Information
Shipping only in Hong Kong.
We offer free deliveries to most areas of Hong Kong for orders over $400 (a token amount will be levied for orders under $400). More Shipping Info.
** In the unlikely event of stock shortage, delivery will be delayed by one week as fresh products will be flown in from the country where products are manufacturer. This is to ensure up-to-date products are delivered to our clients. You will be notified promptly upon receipt of your order.