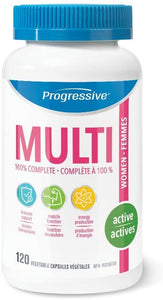 A Variety of Vitamins for Women on the Go
Highlights:
Green Food Concentrates

Stress Relief Nutrients

Antioxidant Support

Green Tea, D3 & K2

Glutamine & ALA

Supports your bones, eyes, heart & thyroid

Fights free radicals, accelerates recovery & replaces lost electrolytes

Improves energy production & combats stress

Gluten Free
Progressive MultiVitamins for Active Women is designed for women on the go. Whether you exercise, work long hours, raise a family or any combination of the above, your body needs the support of an Active MultiVitamin formula.
Age, Gender and Activity Specific
Age Specific – Our needs change as we age. For example, maintaining our bone mass and balancing our hormones become higher priorities and require the correct nutritional support.
Gender Specific – Men and women are physiologically different. As a result, so are the nutrients we require. The Progressive Adult Men's & Women's formulas take these differences into account. Specific ratios of vitamins, minerals and herbal extracts are incorporated into each formula to meet your unique requirements.
Activity Specific – If you exercise often your body needs additional nutrients. Increased energy production, greater free radical defense, electrolyte replacement and the maintenance of muscle tone all elevate your nutritional demands. The Progressive "Active" formulas contain higher potencies of the key nutrients responsible for supporting a more active lifestyle.
Divided Dose
Our bodies aren't designed to accept nutrients in one large dose once a day. By eating smaller, more frequent meals your body will absorb more nutrients from your food. The same principle applies to vitamins and minerals, which often have a short life span in your system and need to be replenished throughout the day. This reduces the benefit of a "one-a-day" formula. Progressive MultiVitamins are designed to provide a constant supply of nutrients and deliver the right potency at the right time.
Digestive Support
Supplementing with enzymes is a bit like taking a dairy-based Probiotic. It will do you some good while in your system, but once it passes through you, that benefit is lost. Our formulas contain a family of digestive aids, including Fringe Tree Bark, Bitter Gourd and Milk Thistle. They work to stimulate your body's own natural production of enzymes, enhancing not only the absorption of your multi, but everything else you ingest as well.
Vegetable Capsules
Many experts feel that capsules, when compared with traditional hard tablets, offer far greater and more thorough absorption of the nutrients they contain. For this reason, Progressive MultiVitamins are packaged in easy-to-digest, easy-to-swallow capsules. In addition, only pure vegetable-based capsules are used, eliminating concerns over the impurities and potential contaminants associated with beef-and pork-based gelatin capsules.
Isolate and Botanical Ingredients
Isolated nutrients provide the high potency of vitamins and minerals you need in the smallest possible capsule. Botanical compounds add the holistic benefit of the complete plant. The botanical ingredients in our MultiVitamins have also been chosen for their gender-and lifestyle-specific benefits.
Serving Size: 3 Capsules

Amount:

Vitamins

Beta-Carotene

12,500 IU

Vitamin A (Palmitate)

5,000 IU

Vitamin D3 (Cholecalciferol)

400 IU

Vitamin E (d-Alpha Tocopheryl Acid Succinate)

150 IU

Vitamin C (Calcium Ascorbate)

300 mg

Vitamin K2 (Menatetrenone)

30 mcg

Vitamin B1 (Thiamine Hydrochloride)

50 mg

Vitamin B2 (Riboflavin)

50 mg

Niacin

25 mg

Niacinamide

40 mg

Vitamin B6 (Pyridoxine Hydrochloride, Pyridoxal-5'-Phosphate)

45 mg

Vitamin B12 (Cyanocobalamin)

200 mcg

Folic Acid

1 mg

Biotin

100 mcg

D-Pantothenic Acid (Calcium D-Pantothenate)

50 mg

Coenzyme Q10 (Ubiquinone)

4 mg

Choline (Bitartrate)

25 mg

Inositol

25 mg

Minerals

Calcium (Citrate, Ascorbate, Carbonate)

200 mg

Magnesium (Citrate, Oxide)

100 mg

Zinc (Citrate)

15 mg

Iron (Citrate)

18 mg

Iodine (Potassium Iodide)

0.1 mg

Manganese (Citrate)

7 mg

Potassium (Citrate)

25 mg

Chromium (Citrate)

200 mcg

Selenium (HVP Chelate)†

150 mcg

Molybdenum (Citrate)

25 mcg

Vanadium (Citrate)

50 mcg

Support Nutrients

L-Glutamine

25 mg

PABA

15 mg

Citrus Bioflavonoids

10 mg

Quercetin

10 mg

Rutin

10 mg

Hesperidin

10 mg

Indole-3-Carbinol

5 mg

DL-Alpha Lipoic Acid

2 mg

L-Glutathione

2 mg

Phosphatidylserine

2 mg

Herbal Extracts

Green Tea Extract (50% Polyphenols)

20 mg

Cranberry Extract Fruit (4:1)

10 mg

Grape Seed Extract

10 mg

Ginkgo Biloba Leaf (24% Flavonoid Glycosides, 6% Terpene Lactones)

10 mg

Lycopene Extract

5 mg

Digestive Aid

Bitter Gourd

45 mg

Fringe Tree

30 mg

Milk Thistle Extract (70:1)

30 mg

Betaine Hydrochloride

20 mg

Pineapple

15 mg

Papaya

15 mg

Piperine

2 mg

GreenFood Concentrates

Chlorella Pyrenoidosa

35 mg

Alfalfa

30 mg

Kelp

15 mg

† HVP – Hydrolyzed Vegetable Protein (Rice)

Other Ingredients: DL-Malic Acid (10 mg for 3 capsules), Sea Salt (2 mg for 3 capsules), Vegetable Cellulose (Hypromellose), Microcrystalline Cellulose, Magnesium Stearate (Vegetable). Contains no added flavours, colours, sweeteners or preservatives of any kind.
Product Quantity: 120 Vegetable Capsules
Adults: Take 1 capsule with breakfast, lunch, and dinner for a total of 3 capsules per day.  Expiry Date:  Nov 2021

Shipping Information
Shipping only in Hong Kong.
We offer free deliveries to most areas of Hong Kong for orders over $400 (a token amount will be levied for orders under $400). More Shipping Info.
** In the unlikely event of stock shortage, delivery will be delayed by one week as fresh products will be flown in from the country where products are manufacturer. This is to ensure up-to-date products are delivered to our clients. You will be notified promptly upon receipt of your order.