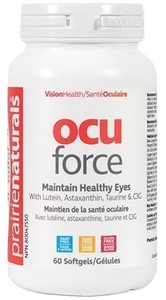 A revolutionary, super-antioxidant supplement for Eye Health
Highlights:
Combines water- & fat-soluble antioxidants

Protects retinal tissues, against oxidation

Increases circulation to & through eyes

Promotes healthy eyes & vision

Based on scientific evidence

Reduces free radical damage

Restores metabolic balance

Strengthens eye tissue

Improves night vision

Soothes eye strain

Gluten free, Yeast free, Dairy free
Prairie Naturals Ocu-ForceTM is a new and revolutionary super-antioxidant supplement that contains a balance of both fat soluble and water soluble antioxidants recognized for promoting healthy eyes and vision. Based upon current scientific evidence, the therapeutic ingredients in Ocu-ForceTM have been shown to support normal eye function, reduce damage caused by free radicals, protect against oxidation of retinal tissues, restore metabolic balance disrupted by high blood sugar, improve night vision, increase circulation to and through eyes, soothe eye strain and strengthen eye tissue.
Ocu-ForceTM is an antioxidant for the maintenance of eye health. Helps to maintain eyesight in conditions (associated with sunlight damage), such as cataracts and age-related macular degeneration. Helps to reduce the risk of developing cataracts. Helps to improve macular pigment optical density. Helps to produce and repair connective tissue. Source of Vitamin A to help in the development and maintenance of night vision.
Ocu-Force™ contains a synergistic blend of 11 of the most therapeutic medicinal ingredients known for eye health today including: Benfotiamine, Astaxanthin, Taurine, Natural Beta Carotene, Vitamin E Mixed Tocopherol, Black Currant Extract, Lutein, Zeaxanthin, L-Selenomethionine, Zinc (Zinc Methionine), PhytoBerry Blend, and Copper Citrate. Ocu-Force™ is gluten-free and does not contain soy, dairy, egg, corn, artificial colours, sweeteners or preservatives.
Each softgel contains:

Beta-Carotene (natural) (2500 IU)

1500 mcg

Vitamin B1 (thiamine) (benfotiamine)

5 mg

Zinc (zinc methionine)

5 mg

Copper (copper citrate)

500 mcg

Selenium (L-(+)-Selenomethionine)

50 mcg

Lutein (Tagetes erecta L. (Asteraceae))

5 mg

Astaxanthin (Haematococcus pluvialis – whole microalgae)

1 mg

Dark Berry 4:1 Extract Blend

50 mg

Bilberry fruit – Vaccinium myrtillus

25 mg

Blackberry fruit – Rubus plicatus

12.5 mg

Blueberry fruit – Vaccinium corymbosum

12.5 mg

Black Currant Fruit 200:1 Extract (Ribes nigrum) (10% cyanidin-3-glucoside C3G)

50 mg

Non-GMO Vitamin E Mixed Tocopherol Concentrate (75 IU)

50 mg

Gamma-tocopherol

41 IU

Delta-tocopherol

22 IU

D-alpha-tocopherol

11 IU

Beta-tocopherol

1 IU

Taurine (L-Tarine)

200 mg

Non-Medicinal Ingredients: Beeswax, gelatin (encapsulating agent), non-GMO sunflower lecithin, organic olive oil, rosemary extract.
Product Quantity: 60 Softgels
Adults: Take 1 softgel two times daily with a meal, or as directed by a health care practitioner. Take a few hours before or after taking other medications.  Expiry Date:  Oct 2021

Cautions & Warnings: Do not use if you are allergic to plants of the Asteraceae/ Compositae/Daisy family. Consult a health care practitioner prior to use if you are pregnant or breastfeeding. Store in tightly sealed, light and oxygen-resistant container in a cool, dry place.
Shipping Information
Shipping only in Hong Kong.
We offer free deliveries to most areas of Hong Kong for orders over $400 (a token amount will be levied for orders under $400). More Shipping Info.
** In the unlikely event of stock shortage, delivery will be delayed by one week as fresh products will be flown in from the country where products are manufacturer. This is to ensure up-to-date products are delivered to our clients. You will be notified promptly upon receipt of your order.